Schools have been opening left and right since the start of the August school year. It's sad to know that so many teachers and students are forced to go back to school at a crucial time in our country. We are at the height of two pandemics and both impact the education received by all students alike.
COVID-19 is not discriminating and does not care who gets caught in its web. Children, no matter their race, are being infected with COVID and some not living to month's end to tell about it. The hatred brewing in our streets and not only damaging children mentally but also emotionally. These children are being taught hate and pain which as well all know is just tiresome. It takes so much energy to be angry and hateful all the time. Why not just stop. We keep asking this question.
The last few months have been filled with conversation regarding this photo taken by Hannah Watters, a young lady attending the predominately white, North Paulding High School. While passing through classes Hannah stopped to share a photo via twitter of her school hall packed from wall to wall with students. As you can see from the side of some of students faces, some of them are not wearing masks.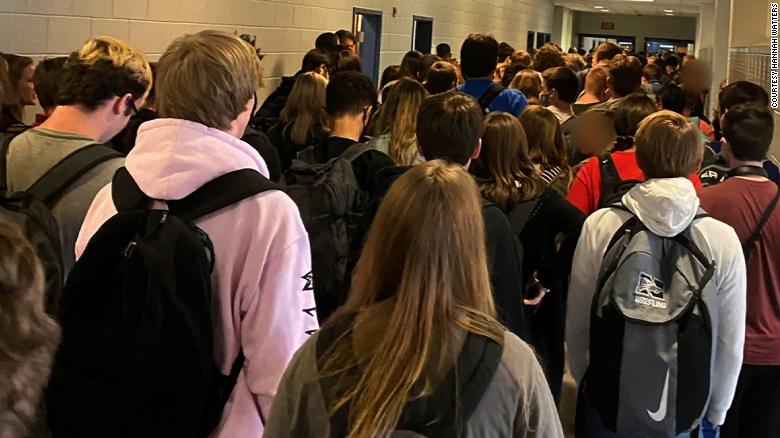 This photo sparked fear in parents hearts across the U.S.. Parents are demanding their children do not return to school until measures have been installed and enforced to ensure the safety of their health. Many parents are afraid of what may happen if their child return to school and simply don't want them going back until the amount of cases have decreased. Others parents are demanding schools be suspended until a vaccination has been administered and they know their child is safe. Our education system and our children are in trouble. There are officials working against the belief that schools should stay closed until an update has been given regarding the coronavirus. They are actually pushing for schools to reopen and continue as usual but "social distancing" of course–with second grade. How?
This outbreak, in combination with the black lives pandemic, is stunting our country in ways I don't believe anyone could have predicted. The president does not seem to be invested in political, economic, financial or education concerns. He seems to only be concerned with his ridiculous opinions, random ideas and outlandish suggestions on this nations future which have no educational stance or profession opinions added. People are giving into distractions. As far as I'm concerned the president is still a puppet and a distraction from the things happening off stage. It is in our best interest to stay focused on more important matters and what we as a country can do for our education system.
The Center for Disease Control (CDC) shared their response to this virus with tips on how to converse and educate students through this COVID-19 crisis. It's time we all start having the proactive conversations regarding what we are currently experiencing and plans on how to move forward . Time is not stopping for anyone, each and everyday we're getting older, and it's about time we slow down to focus on the education of our future. Our little people will one day take charge of this world and so we must take this period through COVID-19 serious. Educate your children, find online programs for them to get involved in, visual learning techniques outdoors and so much more.
I encourage each of you to update yourselves regularly on school regulations and standards so that you're able to provide feedback and challenge the system to provide a better education for your children.